? Bank deposits/withdrawals for fiat currencies are now improved (action required)
Important release notes for users of the Fiat Coin Adapter extension for Bitcoin and Altcoin Wallets for WordPress. Also, a discussion on the dashed-slug roadmap.
After carefully gathering user feedback, the Fiat Coin Adapter extension for Bitcoin and Altcoin Wallets is now improved with version 0.4.0-beta.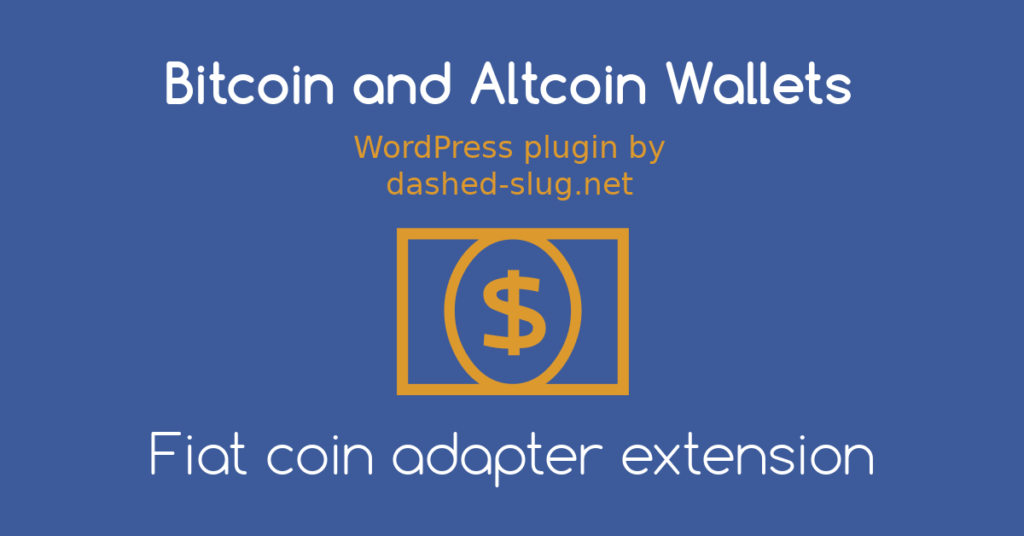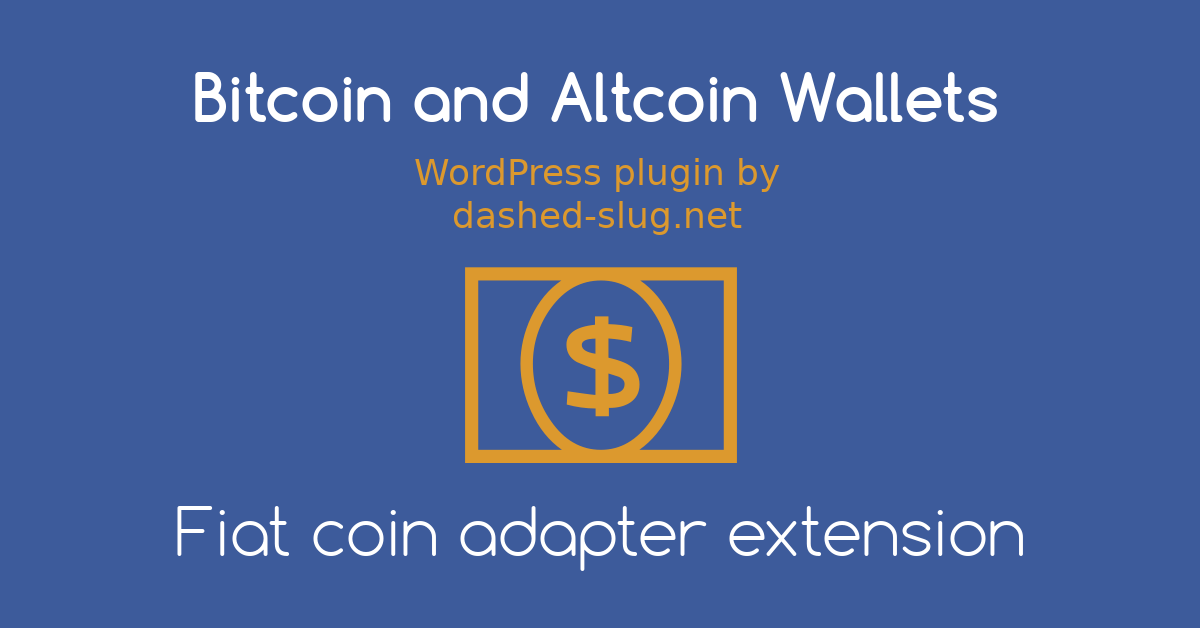 Breaking changes!
Users who are already using the [wallets_fiat_deposit] shortcode will need to update their shortcodes. The shortcode now accepts a mandatory symbol attribute. This is done because the administrator must now enter bank details individually for each fiat currency.
For example, to display the details needed for users to deposit USD, the following shortcode must be used: [wallets_fiat_deposit symbol="USD"].
Background
Other Coin Adapters allow the parent plugin to interact with various blockchains. When the Exchange extension was released, several users voiced a need to be able to create markets denominated in fiat currencies.
To that end, the Fiat Coin Adapter was created. This adapter does not communicate with any API. Instead, it helps a site's administrator to manually process fiat deposits and withdrawals, via a bank account.
Release notes
The adapter is still in beta. Version 0.4.0-beta is a major upgrade of this adapter. Users mainly reported two important issues that needed to be addressed:
For each fiat currency, a different bank account is needed.
IBAN is not an international standard. In the US, ABA Routing and Account numbers are used instead.
Today's release addresses these two concerns, and includes a few more improvements.
The CHANGELOG.html entry for 0.4.0-beta is as follows:
Improve: Each enabled fiat currency now corresponds to different bank details. The [wallets_fiat_deposit] shortcode now has a mandatory symbol attribute to that effect.
Improve: The [wallets_fiat_withdraw] shortcode is improved to allow withdrawing to either to a "SWIFT/BIC" and "IBAN" pair, or to an "ABA Routing Number" and "Account Number". This is needed for US-based accounts.
Improve: Bank deposit details shown in [wallets_fiat_deposit] shortcode can now be specified with either a "SWIFT/BIC" and "IBAN" pair, or with "ABA Routing Number" and "Account Number". This is needed for US-based accounts.
Add: Admins are now notified by email when a new fiat withdrawal request is submitted. This is in addition to any other email that admins receive for pending withdrawals.
Improve: When editing a fiat withdrawal request, the user login name links to the user's profile screen.
Improve: When inserting a new fiat deposit, the user login name links to the user's profile screen.
Improve: The UI forms now inherit styling (CSS) from the Customizer settings of the parent plugin.
Roadmap
This release is part of a big concerted effort to improve the quality of all the dashed-slug plugins throughout, and at all levels. I have currently postponed development of new adapters, apps and other features in favor of making the existing products more attractive.
The Faucet, Exchange, Airdrop, WooCommerce Gateway, and ShapeShift extensions have already been improved in terms of correctness and usability. Some popular user requests have also been addressed.
Upcoming changes will at a minimum touch the Tip the Author extension and the Monero Coin adapter. The Author Payroll extension will need to receive a lot of love before it can be useful in practice.
The accompanying PDF documentations for the parent plugin and for the Exchange extension also need to be improved in terms of structure and readability.
Finally, I am gathering statistics on the most common issues and questions I receive from users. The troubleshooting guides and FAQ sections of various plugins will be updated based on this information. This will make finding solutions easier and less frustrating for end users.
In a few months time, when this effort will be done, the possibilities are endless: I often receive requests for games of chance such as dice or cards, and there are thoughts for new coin adapters to interact with other types of blockchains.
Feedback
As always, if you wish to share any issues, comments, or general feedback about this coin adapter, please use the Fiat Coin Adapter support forum.
For feedback that is not related to this adapter, please use the General support forum or the support forum at wordpress.org.
I am also available to contact over email. I try to give a first reply to all queries within one business day.
A big thanks to all who support this project with your membership and/or with sending in feedback! I wish you all the best of luck with your various crypto projects.