Distribute coins to your users by performing airdrops.
With this extension to Bitcoin and Altcoin Wallets for WordPress, you can perform cryptocurrency Airdrops: An airdrop is a simultaneous distribution of a coin to all the users on your site.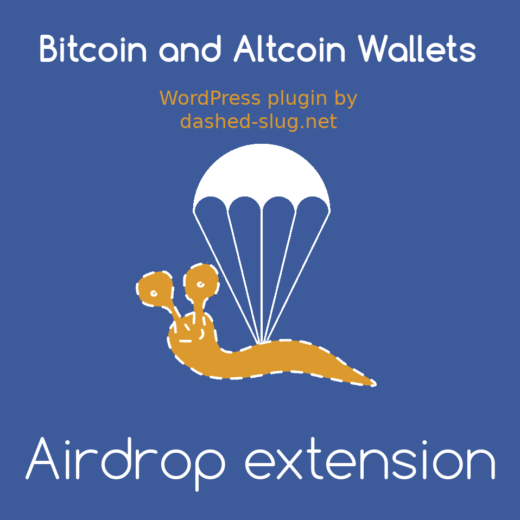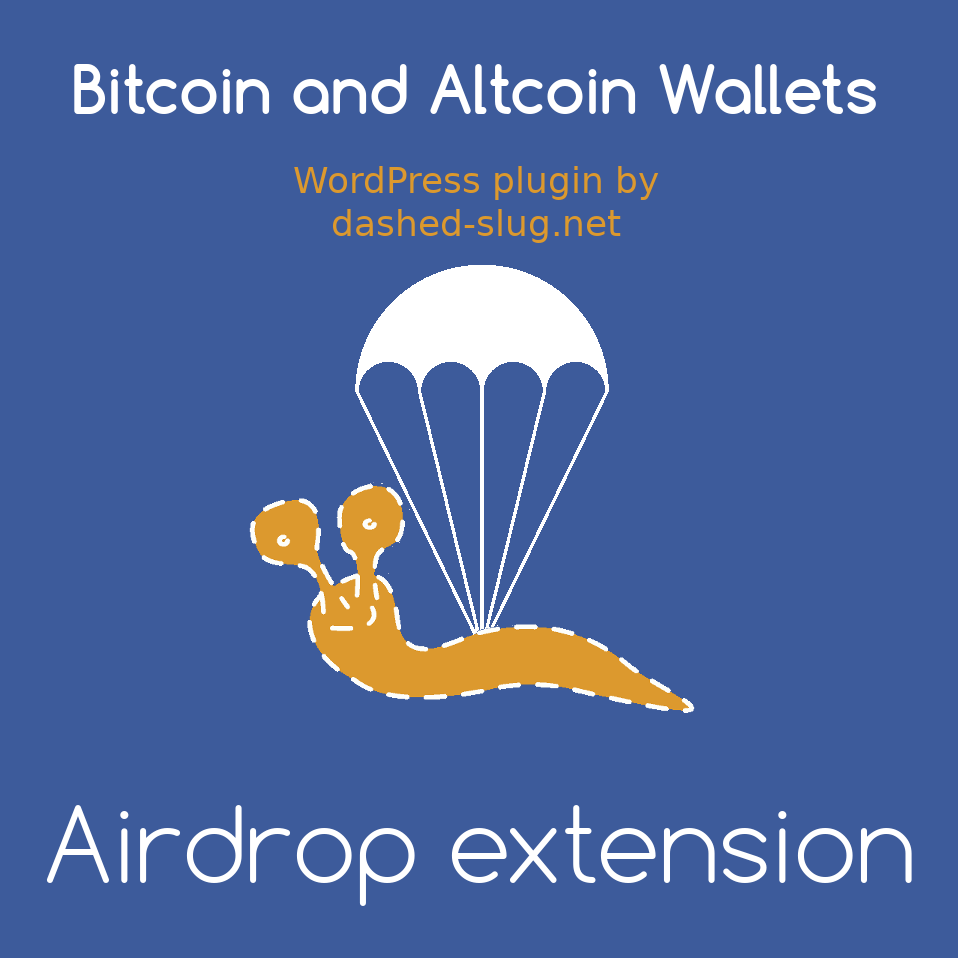 Features
The amount a user receives can be fixed (e.g. each user receives 0.00001 Litecoin), or it can be proportional (e.g. each user receives 10 times their USD balance in Dogecoin).
The airdrop can be either applied to all users, or only to users belonging to a particular WordPress Role (e.g. pay all subscribers).
Additionally, as of version 2.0.0, it is now possible to define recurring airdrops, a much-requested feature. Recurring airdrops are executed repeatedly at intervals that you define. Examples: Every day, pay 20 DOGE to all users who have the Customer role. Or, once every 10 minutes pay users in the Miner role, 0.00000001 times the balance they have in a POS coin. This allows for rewarding users with an interest on their investment, but please don't use this to HYIP-scam people!
It is possible to add a start and end date/time to all airdrops. If the start is in the past, airdrops are applied retroactively. If it is in the future, the airdrop will not run until that time. If a start time is not set, the airdrop begins at the time when it is first created. Once the end time of the airdrop elapses, the airdrop becomes inactive. It can later be edited to reactivate it.
Caution: When an airdrop is executed, it creates a bunch of deposit transactions. These exist only in your database and DO NOT correspond to actual funds deposited in the site's hot wallet. It is your responsibility to make sure that the new deposits are backed by actual funds. To do this, deposit funds to your site's wallet without using any deposit addresses that correspond to users. Instead, use the cold storage feature to get a deposit address that is not bound to any user, and deposit funds there. If you do not do this, users may not be able to withdraw their funds. Use the coin adapters screen to compare the "Hot wallet balance" and "Sum of user balances" for each coin.
Installation and usage
Download and install this plugin (see also Manual Plugin Installation).
Make sure that you have connected and enabled at least one coin adapter for the coin you wish to distribute.
Deposit funds to an address that is NOT bound to a user (see the caution above).
If you wish to execute an one-time airdrop, go to Tools → Airdrop. Fill the form, then hit the button and any applicable users will receive funds immediately. You will be redirected to the Wallets → Transactions screen where you will be able to review the generated deposits.
If you wish to execute a recurring airdrop, go to Airdrops and create a new airdrop. You may give a title to the airdrop to help you identify it. You will be able to specify how each user is to be paid (which user roles, which coin, fixed or proportional reward, etc), as well as when this airdrop is to run. You may specify airdrops that repeat on a regular interval every N minutes, hours, days, weeks, months or years. You may also optionally specify when an airdrop is to start and stop.
faq
How does the airdrop scheduler work? What if I set a start date in the past?
For this extension I have implemented a separate scheduler, that is independent from all the other cron jobs. If you create an airdrop that is applicable in the past, then it will run once every minute, until it catches up with the payments. It is guaranteed to eventually pay out all the airdrops corresponding to the time period you specified.
troubleshooting
I performed an airdrop by mistake that I wish to revert. How to do this?
For one-time airdrops, each transaction is given a tag that uniquely identifies the airdrop, so that you can batch-delete all transactions if you need to.
For recurring airdrops, every transaction is given a tag that uniquely identifies the post ID of its recurring airdrop, and another tag that uniquely identifies the particular run.
Please see this blog post to see how to manually edit the transactions table and revert mistakes.
I cannot edit the start/end times of a recurring airdrop.
Use a more modern browser.
download
You must be a premium dashed-slug member to gain access to this plugin. Paid membership gives you access to all the current and future premium plugins on the site, and to updates of those plugins.
support
For any issues, inquiries, suggestions, and general feedback regarding this premium app extension, visit the support area.
For support regarding the parent plugin, Bitcoin and Altcoin Wallets, please use the support forums on WordPress.org.
Airdrop extension
Updated on 2019-12-16T10:58:25+00:00, by alexg.