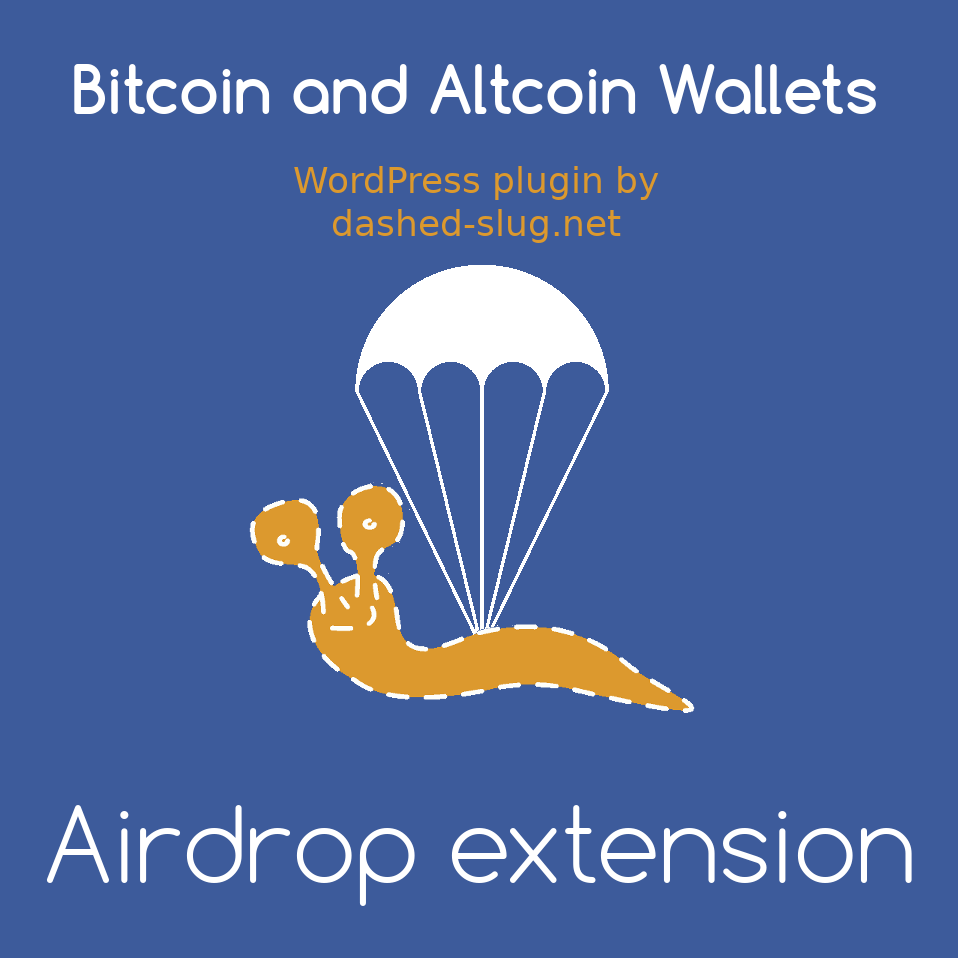 screenshots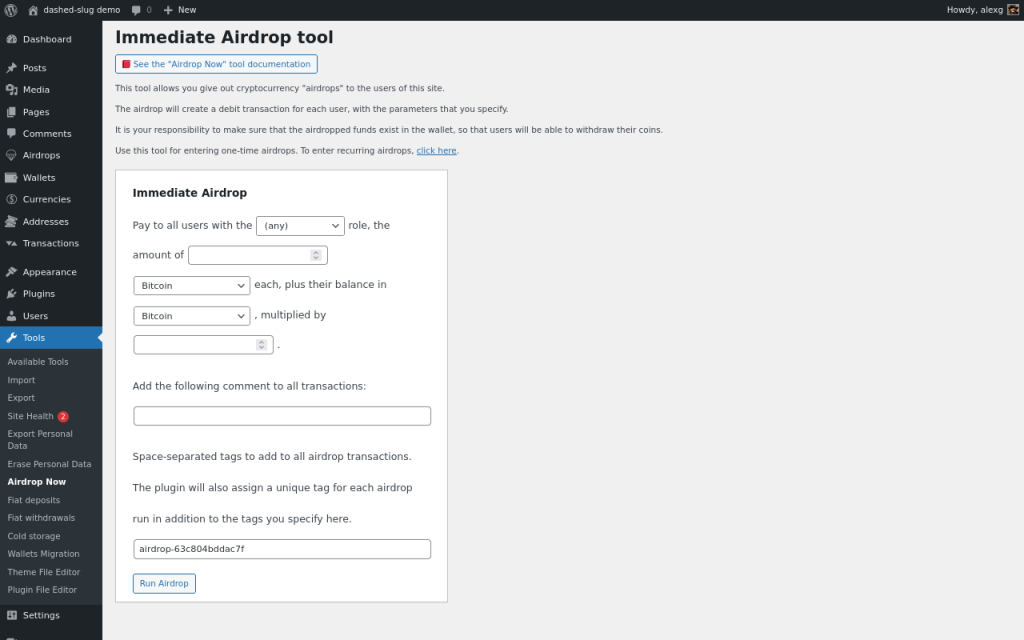 features
Admins can

Create recurring airdrops

Set a start date and time
Set an end date and time
Set a periodicity (time between payouts)
Set the payout amount

As a fixed amount of a currency
As a percentage of the user balance

Of the user balance in same currency
Of the user balance in another currency

The airdrops can be paid out to

All users
Users of a specific WordPress User Role

Set a message template to associate with any payout transactions
Set tags on the payout transactions

View aggregate statistics on a running airdrop

Count of applicable users
Count of runs executed so far
Count of payout transactions created so far
Sum of distributed amounts so far

Perform immediate airdrops (non-recurring)

Set the payout amount

As a fixed amount of a currency
As a percentage of the user balance

Of the user balance in same currency
Of the user balance in another currency

The airdrops can be paid out to

All users
Users of a specific WordPress User Role

Set a message template to associate with any payout transactions
Set transaction tags on the payout transactions

Users can

Receive airdrops according to admin settings
Be informed via email notifications about airdrop payouts
installation
TIP: You should first install and configure the parent plugin, Bitcoin and Altcoin Wallets.
1 Log in to dashed-slug.net using your premium account.
2 Go to http://www.dashed-slug.net/bitcoin-altcoin-wallets-wordpress-plugin/airdrop-extension
3 Download the latest version of this app extension.
4 Login to your WordPress installation as an admin.
5 Go to Plugins.
6 Click on Add New.
7 Click on Upload Plugin.
8 Click on Choose file.
9 Select the zip file that you downloaded.
10 Click on Activate plugin.
That's it! The extension is now installed!
To perform an immediate airdrop, navigate to Tools → Airdrop Now.
To create a recurring airdrop, navigate to Airdrops → Add New.
downloads
This is a premium plugin available to paying members only.
documentation
As of Bitcoin and Altcoin Wallets version 6.0.0, the documentation can be accessed from the WordPress admin screens. Look for Wallets Admin Docs in the Admin menu.
Note that the documentation is only shown to administrators (users with the manage_wallets capability).
Previous versions of the plugin and its extensions had documentation in the form of an accompanying PDF file. This has now been replaced with markdown files placed in the source code directories of each component.
support
Please use the appropriate support forum:
You are welcome to send in any problems, questions, suggestions, thoughts, etc.
For all other communication, such as questions and issues regarding membership, you can email me.
Airdrop extension
Updated on 2023-08-24T11:38:47+00:00, by alexg.