Let logged in users pay at WooCommerce checkout from their cryptocurrency wallet.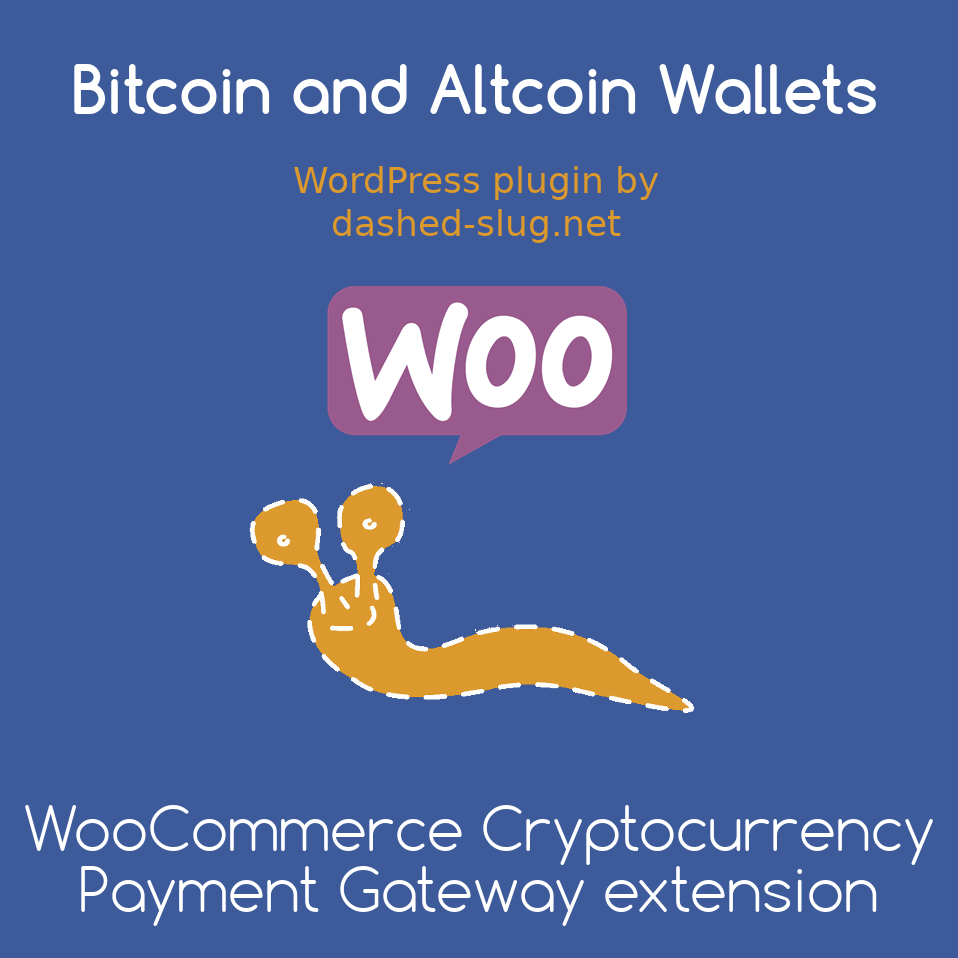 This plugin extension is a payment gateway for WooCommerce and for WC Marketplace.
Once you install the Bitcoin and Altcoin Wallets WordPress plugin, the users who subscribe to your site can maintain account balances in Bitcoins and various other cryptocurrencies. This payment gateway lets them spend this cryptocurrency to pay for orders from your WooCommerce e-shop.

features
Works as a WooCommerce payment gateway. On checkout, the buyer selects a cryptocurrency to pay with, from a list of sufficient coin balances that the user owns. The plugin performs an internal payment to the designated admin account.
Displays product prices in an arbitrary number of altcoins that you have set up, using the Exchange rates feature of the parent plugin to retrieve prices from major exchanges. Your coin is not listed in a major exchange? You can still add the exchange rate of your coin with some minimal coding.
Supports issuing refunds via WooCommerce. An amount is sent to the buyer via an internal transaction. The amount is equivalent in value to the original purchase, as expressed in the main WooCommerce currency. This can be a fiat currency, to guarantee that product prices remain stable. Refunds are paid in the same cryptocurrency coin as that paid on checkout, but the amount is adjusted based on current exchange rates.
Works as a WC Marketplace payment gateway. When there are vendor commissions to be paid, they are paid to the vendors from the designated admin account.
installation instructions
Install and activate the Bitcoin and Altcoin Wallets WordPress plugin, WooCommerce and this extension.
From the left-hand side menu, go to WooCommerce → Settings → Checkout → Bitcoin and Altcoin Wallets.
Select an admin account that will receive cryptocurrency payments, then click on Save Changes.
If using WC Marketplace, then vendors will be able to choose Bitcoin and Altcoin Wallets to receive their commissions. Simply go to WCMp → Settings → Payment → Payment Settings → How/when to Pay. Check the option Bitcoin and Altcoin Wallets, then hit the Save changes button. Then, to use this gateway as a vendor, login as a user with the vendor role, then visit Store Settings → Billing → Choose payment method → Bitcoin & Altcoin Wallets.
After registering at dashed-slug.net you will have received an activation code in your e-mail. This code is also available on the website after you login. From the left-hand side menu, go to Settings, and select Activate dashed-slug.net plugins. Please paste your activation code in the provided text field, exactly as you received it.
Finally, click Save changes. Congratulations, you should now be receiving updates for all the premium dashed-slug plugins.
troubleshooting
If the cart and checkout pages in your shop do not show any cryptocurrencies as a payment option:
Check that the Bitcoin and Altcoin Wallets plugin is installed and enabled.
Check that at least one coin adapter is installed and is responding. Go to Admin → Wallets. There should be at least one cryptocurrency with Adapter Status: Responding.
Check that your user is logged in. Users can only use this gateway to pay with balances that are associated with their accounts. Users who are not logged in will not see this payment option.
Check that the payment option is enabled. Go to Admin → WooCommerce → Extensions → Checkout → Bitcoin and Altcoin Wallets → Enable/Disable. Make sure that the checkbox is checked.
Currency rates are calculated using the fixer.io API and a choice between bittrex/poloniex/novaexchange APIs. If for some reason one of those APIs is not contactable from your server, exchange rates will not be available to the plugin and therefore the payment option will not show.
If you still you do not see this plugin as a payment option, then please report your issue at the support area.
If you cannot checkout a cart:
Make sure that you have enough funds on the user that you are using to test the checkout. If you do not have enough funds, the gateway will let you know.
As a customer, you will not be given the option to pay for coins whose exchange rate is not known by the plugin. Customers can only pay with cryptocurrencies whose value can be converted to the default currency of your shop. Go to Exchange rates in the admin menu, and select an exchange rates provider that includes the rates needed. For example, if your shop lists prices in USD, and your customer tries to pay with Litecoin, you will need to have the LTC/USD exchange rate loaded (or the LTC/BTC and BTC/USD rates). If the default currency of your WooCommerce eshop is a fiat currency (such as USD or EUR), you will need to also enable the Fixer.io exchange rates provider (see this relevant blog post). You can check which exchange rates are loaded, in the debug view near the bottom of the admin screen (Exchange rates box).
You cannot checkout if you are logged in as the admin account that you have designated in the payment gateway options. To test the checkout process, log in as a different user.
faq
how do I set product prices in other cryptocurrencies?
You don't. Cryptocurrency prices are often more volatile than those of fiat currencies. The products in your e-shop are priced at the base currency that you have selected in the WooCommerce settings, as usual. This would typically be a fiat currency (although nothing is stopping you from choosing one of the available cryptocurrencies as the base currency).
The amount that the end user pays is the order total, converted based on current exchange rates, plus any transfer fee that you have set up in the coin adapter settings. Visit the Bitcoin and Altcoin Wallets admin menu to set coin adapter settings for each cryptocurrency.
how are exchange rates calculated?
Price conversions are done by querying the fixer API for fiat-to Bitcoin conversions, and another API of your choice for BTC-to-altcoins conversions. You can choose between the Bittrex, Poloniex, or Novaexchange APIs to pull exchange rates. Requests to these APIs are cached for a configurable number of minutes. See Wallets → Exchange rates.
how does the user pay?
When a logged in user requests to check out an order, they see the total price of the order in the base currency, and also calculated in Bitcoins or any cryptocurrency that is currently enabled in the Bitcoin and Altcoin Wallets plugin.
If there is at least one cryptocurrency available, the Bitcoin and Altcoin Wallets payment method becomes available along with any other payment methods you may have installed.
If the user chooses this payment method, they are instructed to pick the cryptocurrency that they wish to pay with, from a simple drop-down.
When the user finally hits the checkout button, the amount is transferred from their cryptocurrency account to the wallet of an administrator that you have previously selected (see installation instructions, above).
After the order is completed, they will be able to see the transaction in the transactions UI that corresponds to the [wallets_transactions] shortcode (see Wallet shortcodes for more).
why not use another bitcoin payment gateway for WooCommerce?
If you simply want to enable Bitcoin payments to your e-shop, there are certainly other solutions out there that will also do that. The goal of the Bitcoin and Altcoin Wallets WordPress plugin is to provide an ecosystem of extensions that will let a user accumulate balances to your site via multiple streams, and let them spend those balances in multiple ways. Think of it as a customer loyalty program.
how does checkout work in WCMp?
When using WC Marketplace, a customer may add to their cart items from multiple vendors. On checkout, a WooCommerce order is created, and several sub-orders are generated, one for each vendor. When the customer pays from their cryptocurrency wallet, they pay the total checkout amount to the designated admin account. The admin account will later pay commissions to the vendors.
how do withdrawals work in WCMp?
As users check out their carts, commissions are accumulated in WCMp. "Withdrawal" is a two step process: First an admin withdraws the commission from the admin wallet to the vendor wallet. Then, the vendor is free to actually withdraw to an external blockchain address using the [wallets_withdraw] shortcode. The vendor can also use their currency with the other dashed-slug apps. For example, if there is an active market set up in the Exchange extension, then a vendor can exchange their earnings to a different currency before withdrawal.
To keep things simple, commissions are paid in the same currency as the user paid. When a vendor first withdraws their commission, the amount transferred is stable with respect to the shop's default currency, which may be a fiat currency. This means that the shop owner and vendors are protected from the high volatility of cryptocurrencies. It also means that the exchange rates subsystem must be set up correctly. Make sure to set up a fixer API key.
how do refunds work in WCMp?
An admin or vendor can issue a full or partial refund to an order. This transfers the funds from the admin account back to the customer with an internal move transfer. Again, the amount refunded is stable with respect to the shop's default currency, as in the case of commission withdrawals.
download
You must be a premium dashed-slug member to gain access to this plugin. Paid membership gives you access to all the current and future premium plugins on the site, and to updates of those plugins.
support
For any issues, inquiries, suggestions, and general feedback regarding this payment gateway, visit the support area.
For support regarding the parent plugin, Bitcoin and Altcoin Wallets, please use the support forums on WordPress.org.
WooCommerce Cryptocurrency Payment Gateway extension
Updated on 2020-02-11T09:47:50+00:00, by alexg.