Turn your blog into a bank: Let your users deposit, withdraw, and transfer bitcoins and altcoins on your site.
deposit crypto
Your users can now deposit and withdraw Bitcoins.
fees
You set the fees that your users pay to you when they transact or withdraw coins.
altcoins
Easily interface to other cryptocurrencies besides Bitcoin. Simply install the provided altcoin adapters for the currency you require.
transactions
Users can transfer coins to other users.
front-end UI
Present a simple, knockout.js-enabled frontend UI using shortcodes or widgets. Or roll your own.
notifications
Users are notified by email whenever they perform transactions. Configure messages via the admin interface, or bind to WordPress actions and code your own notification functions in PHP.
capabilities
Enable or disable user actions via WordPress capabilities.
DB storage
All accounting data is stored safely and efficiently in your database.
backups
Export accounting data to .CSV backup files with one click. Import again with ease.
pluggable
PHP and JSON APIs give access to the wallets from your theme or other plugins. Look out for more apps that build on this awesome APIs in the near future, or create your own!
documentation
PDF Documentation explains the ins and outs of this plugin in detail. Full PHPdoc is included for the PHP API. Also available on steemit.
security
Protection against common plugin security vulnerabilities such as CSRF attacks and SQL injections. Easily secure funds in Cold Storage wallets.
APIs, APIs everywhere!
The modular philosophy of the Bitcoin and Altcoin Wallets plugin is about providing programmatic access to an abstraction layer that can then talk to a bitcoin wallet or to other cryptocurrencies. In simple English: You and others can build and use applications that do financial transactions, without worrying about the implementation details of each coin, or about UI issues, accounting, etc.
For site administrators
Install the bitcoind daemon.
Install this plugin and configure the settings to use your wallet's RPC API.
Insert the simple shortcodes into your site's content.
For developers
If you're a developer, by now you will probably be asking:
Can I see the software stack diagram?
OK, here it is: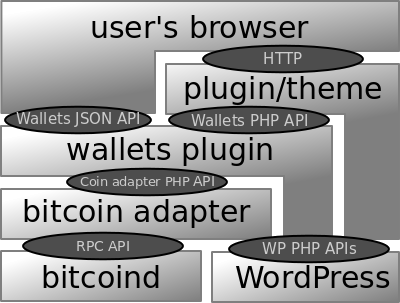 disclaimer
By using this free plugin you accept all responsibility for handling the account balances for all your users. Under no circumstances is dashed-slug.net or any of its affiliates responsible for any damages incurred by the use of this plugin. Every effort has been made to harden the security of this plugin, but its safe operation depends on your site being secure overall. You, the administrator, must take all necessary precautions to secure your WordPress installation before you connect it to any live wallets. You are strongly advised to take the following actions (at a minimum):
enable SSL on your site
If you are connecting to an RPC API on a different machine than that of your WordPress server over an untrusted network, make sure to tunnel your connection via ssh or stunnel. See more here.
By continuing to use the Bitcoin and Altcoin Wallets plugin, you indicate that you have understood and agreed to this disclaimer.
Bitcoin and Altcoin Wallets WordPress plugin
Updated on 2021-11-09T17:35:09+00:00, by alexg.