? Exchange rates from Yobit and Cryptopia in Bitcoin and Altcoin Wallets for WordPress
New exchange rate providers plus more improvements in Bitcoin and Altcoin Wallets version 2.8.0.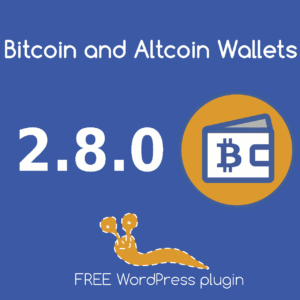 The latest version 2.8.0 of the Bitcoin and Altcoin Wallets WordPress plugin features a number of improvements. Most of the work done was on the exchange rates providers. Exchange rate data is currently used by the WooCommerce Cryptocurrency Payment Gateway extension and the Events Manager Cryptocurrency Payment Gateway extension.
Two new exchanges are added as possible data providers. These are Yobit and Cryptopia.
If you are using a custom RPC API adapter for a lesser-known coin, and if you are using one of the payment gateway extensions, make sure to select an exchange rate provider that lists your coin. Simply go to Wallets → Exchange rates and make your choice.
The mechanism that loads data is much more efficient, and does not slow down page requests as much.
Additionally, administrators can now cancel and retry internal transactions (i.e. not deposits or withdrawals).
The full changelog for 2.8.0 follows:
Add: Admins can cancel internal transactions.
Add: Admins can retry cancelled internal transactions.
Improve: Exchange rates are now not slowing down the system. Better caching mechanism. Runs on PHP shutdown.
Add: YoBit and Cryptopia exchanges added as exchange rate sources.
Add: Exchange rate sources are now pluggable (see PDF documentation).
Add: Dashboard debug info now includes commit hash and plugin version.
Fix: Bug with failsafe mechanism for systems where WP Cron is not running, introduced in 2.7.4
Improve: When not connected, the internal Bitcoin core plugin now suggests a salted password for the bitcoin.conf file, using the rpcauth= argument.