⇄ Switching between adapters, aggregating old transactions
Easily switch between coin adapters and aggregate past transactions to save space in version 3.1.0 of Bitcoin and Altcoin Wallets for WordPress.
Two new developments added in version 3.1.0 of Bitcoin and Altcoin Wallets:
Switching between adapters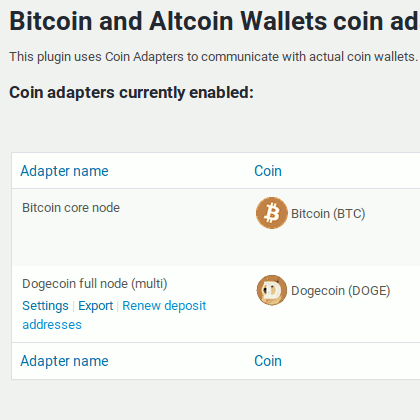 You can now more easily replace the adapter for a coin with a different one:
Deactivate the old adapter.
Install and configure the new adapter.
Enable the new adapter.
Got to Wallets →Adapters. Under the new adapter, select "Renew deposit addresses". This will renew any user deposit addresses, as well as the cold storage deposit address for that coin.

There is no longer a need to edit the DB manually. The new instructions can also be found in the FAQ section of the readme file.
Aggregating old internal transactions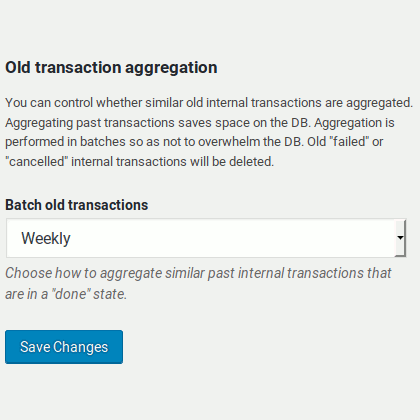 Some users have reported that the Faucet extension can fill up the database with thousands of transactions on a site with high traffic. There is now an option to aggregate past transactions into batches. This saves space in the DB without affecting user balances. Since transactions with identical tags are grouped together, this feature will group together faucet transactions but will not mix them with other internal transactions.
You can turn on this feature in the Cron job admin page.
After turning the feature on:
On every heartbeat, the cron mechanism determines the earliest week for which transactions that have not yet been aggregated.
For that week, it sums any internal transactions in "done" state for each sender, recipient, coin, blog, and set of transaction tags. Similar transactions are replaced with an aggregate transaction that is the sum of the transactions it replaced.
Additionally, any internal transactions in a "failed" or "cancelled" state during that week are deleted.
Alex